Samsung Galaxy Note 10+ OUR OPINION
WE LOVE
S-Pen (gesture control)
Beautiful screen
OneUI adapted to the S-Pen
Video functions
Photo quality
Design
DeX Desktop
WE LIKE LESS
No audio jack adapter provided
Optional high speed charger
Delusional price
Improved autonomy
Small revolution in this quiet month of August: Samsung announces not one, but two Galaxy Note! Note 10+ completes the Note 10, now the entry point to what must be called a range. Both are in common use of the S-Pen pen for note-taking, drawing, retouching images or even other new uses and smart enough (as we will see a little later). Below, check out our test of the Samsung Galaxy Note 10+.
On paper, the flagship of Korean for the end of the year seems full of good ideas in many ways. At least this was necessary to encourage users of a Note 8 or Note 9 to renew their smartphone!
Traditionally intended for a professional audience, the Note 10+ opens to a public audience (and wealthy) by adding fun features. Will this suffice to attract new buyers? Is the Himalayan price of the Note 10+ justified? Will the new possibilities of the S-Pen convince? To find out, read our test!
Our video test of Galaxy Note 10+
Rate and launch date
The Note 10+ is available in France since August 23 in two shades: Stellar Silver or Black Cosmos. Samsung declines in 256 GB version and 512 GB respectively at prices of € 1109 and € 1209 (excluding subscription or subsidy). Undoubtedly, these prices are very high, even prohibitive for some potential users . According to Samsung, it is justified by embedded technologies whose R & D cost is becoming more expensive. Incidentally, the manufacturer says that users of Note products are among the most loyal and renew their equipment very easily. Even if he does not advance a number to corroborate this assertion, the Korean would be wrong to be embarrassed if the buyers are always present …
Our video test of Galaxy Note 10+
Rate and launch date
Technical sheet
Design: brilliant minimalism
Screen: a marvel punched
Performance: better and better!
Interface: OneUI takes his stylus (and we our foot)
Audio : So long, old Jack !
Charge and autonomy: an electric case
Photo and video: AI does (small) miracles
comments
Technical sheet
Galaxy Note 10+
Dimensions
77,2 x 162,3 x 7,9mm
Weight
196 g
Screen
6,8″ Dynamic AMOLED Infinity-O HDR10+
Definition
3040 x 1440 pixels (498 ppp)
Front camera
Front: 10MP AF Dualpixel with f / 2.2 phase detection (80 ° field of view)
Back camera
Ultra wide-angle : 16 MP f / 2.2; 123 ° viewing angle
Wide-angle : 12 MP; double f / 1.5 and f / 2.4 aperture; OIS; 77 ° viewing angle, AF Dualpixel with phase detection
Telephoto : 12 MP f / 2.1 OIS viewing angle 45 °
DepthVision : ToF VGA f / 1.4; 72 ° viewing angle
THE
OneUI based on Android Pie
Internal memory
256 / 512 Go
MicroSD
Yes
connectivity
Bluetooth 5.0, Wi-Fi 802.11 a/b/g/n/ac/ax (2,415GHz) VHT80 MU-MIMO, dual-band, WiFi Direct, hotspot
NFC
Yes
SoC
Exynos 9825 (7nm)
RAM
12 Go
Fingerprint sensor / facial recognition
Yes (ultrasonics under the screen) / Yes
Resistance to water
IP 68
Drums
4300 mAh
Charge port
USB Type-C
Fast recharge
Yes
Wireless Qi Recharge
Yes
color
Aura glow (silver), Aura black (black), Aura white (white, not available in France for now)
Price
1109 € (256 Go) / 1209 € (512 Go)
Design: brilliant minimalism
More than ever, Samsung gives in minimalism in design. Fully covered with glass, never a Galaxy Note has seemed so uncluttered. Our test version had an opalescent silver backing beautifully named Stellar Silver. When it receives a ray of light, it hastens to diffract it and returns reflections rainbow way of the most beautiful effect. Note in passing that Samsung offers a black version Cosmos, a black much more classic.
We had already noticed in our brief grip : Note 10+ has a very successful design . Similar in size to Note 9, it is even worth the luxury of weighing a few grams less (196 g against 201 g for Note 9) and being less thick than 0.9 mm (7.9 mm against 8 , 8 mm). This does not prevent it from shipping a Dynamic AMOLED panel of 6.8 "diagonal (against 6.4" for its predecessor). The screen is so big, but fits in in the same box (or almost) as its predecessor.
To achieve this, Samsung continues to slowly push the black borders and sacrifice the front devices. Exit therefore the front 3D camera and its sensors: it will now be done with a standard facial recognition and do without the (very) powerful unlocking by the iris. The telephone earpiece obviously does not disappear, but migrates on the upper side. Same thing for the microphone, which fades to find a place at the base.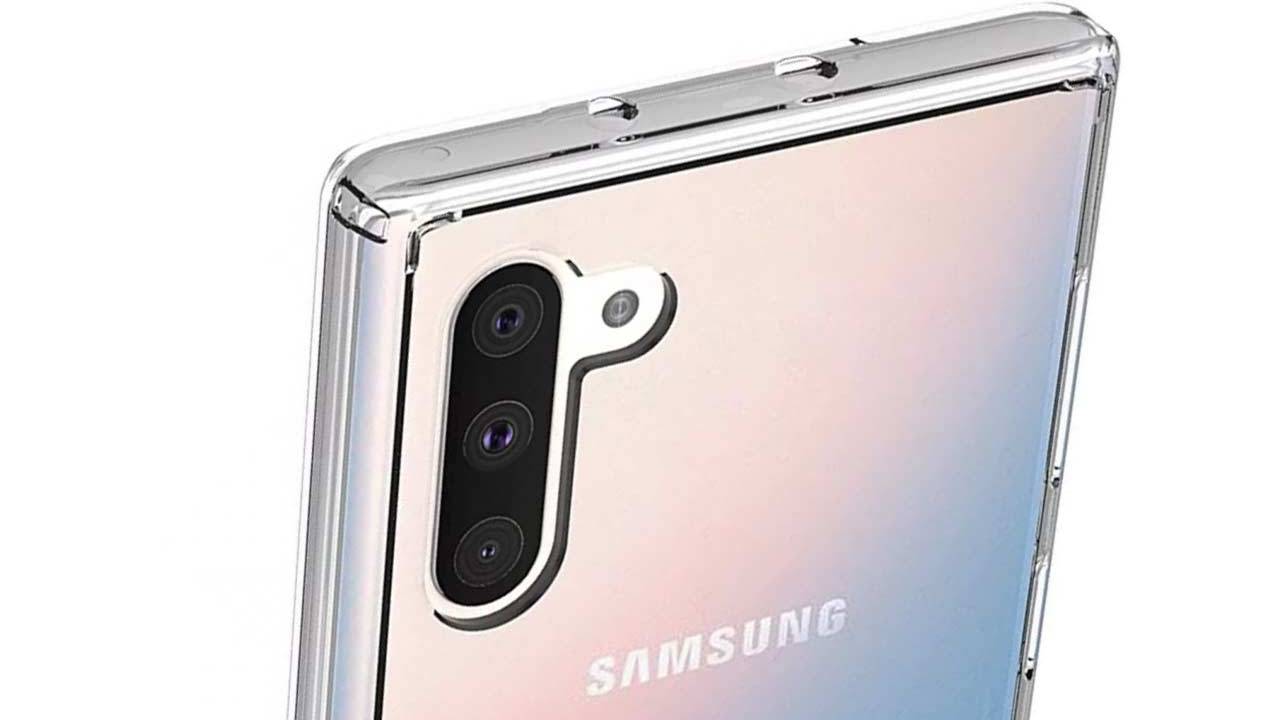 The front camera, reduced to its simplest expression, now finds room in a small punch. We suspect, some purists will shout very loud scandal, the screen distorted. Yet this poor punch is only 4.5 mm in diameter  ! In addition, its placement in the upper part of the median of the slab makes it virtually invisible. Throughout this test, we had almost forgotten his presence and he did not embarrass us in any way when we had a negative view of his presence.
In the heading "our dear disappeared" , that of the audio jack may be talked about since it is a first on high-end smartphones Korean. Samsung justifies this by the need to make room for other components, including the battery and a haptic motor (which generates vibrations) completely redesigned. The returns he creates are actually more "honest" and much more enjoyable than those created by previous versions.
Another less controversial disappearance, that of heartbeat reader housed on the back (almost unused on the Galaxy Note) and the move of the fingerprint reader. This one moves on the front face, and more precisely under the screen. Ultrasonic type, we found it both reliable and fast.
The mechanical keys are still present, but in reduced numbers. Now grouped on the right flank, they are three in number: two for volume control, the last being multifunction. This one is used to power on or off and summon Bixby, the unpopular home assistant. It becomes somewhat programmable and finally allows the appointment of the vocal assistant (what we were eager to do during this test).
Let's finish this description quickly, stating that the slot for the S-Pen does not move an iota and that the dual SIM drawer (or SIM + Micro SD) is on the top.
Beautiful and functional: these are the qualifiers that come to mind after this test . The downside of the coin, the device's impressive ability to capture any dust or fingerprints. We can not advise too much the purchase of a transparent shell to minimize the risk of dirt while enjoying the beautiful reflections of the screen. Which in addition will provide additional protection in the event of a fall to the inevitably disastrous effect on a glass product.
Screen: a marvel punched
As a rather lazy editor, we still appreciate the writing of the review of the screen of a Galaxy S or Note because we just have to take the text of the previous year almost word for word!
So: the screen of the Note 10 Plus is simply wonderful and represents what Samsung Displays knows how to produce better so far . The Dynamic AMOLED panel is 6.8 "diagonal and has 1440 x 3040 pixels in a 19: 9 aspect ratio (498 dpi density). The front seat occupancy ratio is a very respectable 91%, one of the most important crossover to date.
As often in Korean, the colors are a little boosted to be more flattering to the eye. This can be remedied by a tour through the display settings. This will be used to activate the video optimizer to make movie viewing more realistic, or HDR10 + compatibility if compatible sources are available.
We can also put in function the blue light filter that will fatigue the eye less, at the cost of a change in colorimetry incompatible with colorimetric veracity. Finally, the dark mode allows a much more relaxing display of the interface and incidentally less energy consumer.
Performance: better and better!
The Note 10+ marketed in Europe embeds an eight-core Exynos 9825 processor engraved in 7 nm. It is completed with a neuronal unit and a GPU Mali-G76 MP12. The processor also relies on 12 GB of RAM. Finally, the internal storage of our test model consists of 256 GB of storage type UFS 3.0. Note that a declination shipping, 512 GB of storage is available.
In the game of gross performance, the Score 10+ gets an Antutu score of 348,796 points . Far from being ridiculous, however, it does not equal the gross performance of competitors equipped with a SnapDragon 855. This will surely sadden the fanatics of benchmarks, but in practice the Note 10+ is of an impressive speed . At no time did we notice any slowdown or even latency of the Android 9 + OneUI pair. The home interface and the OS remain fluid and responsive, the 12 GB of RAM allowing the simultaneous opening of a dozen applications requiring resources. The GPU, perfectly sized for gaming , offers excellent performance with the most demanding games.
No problem either when performing heavy tasks such as photo editing or video editing . In this regard, note that Samsung has worked hand in hand with Adobe to offer a version of Premiere Rush optimized for the Note 10+.
Once again, we find that gross processing power is no longer the primary criterion for evaluating a high-end smartphone . Software optimization and the resource management algorithm are significantly more important. Finally, it should be noted that the steam chamber in charge of cooling the electronics has been the subject of special attention. In addition to its efficiency, it is also the finest ever developed, all brands … for now.
Interface: OneUI takes his stylus (and we our foot)
Note 10+ ships Android 9 and the overlay OneUI home which we have already told the past pat all the good we thought. The Note 10+ is the first stylus smartphone designed for OneUI (Note 9 came with Samsung Experience which was updated). Has Samsung really optimized its new overlay for the use of a stylus? The answer is yes, definitely yes .
Essential element of the Note 10+ ( if you do not need, go for a Galaxy S, cheaper and equally satisfactory ), the S-Pen takes the opportunity to evolve. After inheriting a Bluetooth connection with Note 9, it is now equipped with an accelerometer and a gyroscope. It can therefore detect the movements made by the user when he has it in hand, even when there is no contact with the screen.
The user can thus "  remote control" some remote applications by drawing gestures in the air . It may sound like a gadget, but the idea is excellent. In practice, you can scroll through the photos of the album, control the camera, unwind a PowerPoint presentation, etc. All this is accompanied by an impressive increase in the range of the S-Pen (given for 50 meters in open terrain, against 8 meters on Note 9) and a range that we evaluate at 60 minutes in intensive use.
The Samsung Notes app gains new features such as handwriting recognition, "pinch to zoom" (zoom up to 300% on the page by pinching) or the export of notes in different formats. The stylus is precise and can recognize 4096 pressure levels. We appreciate the very low latency during drawing or writing, as well as the possibility of creating composite documents (text, drawings, images and sounds).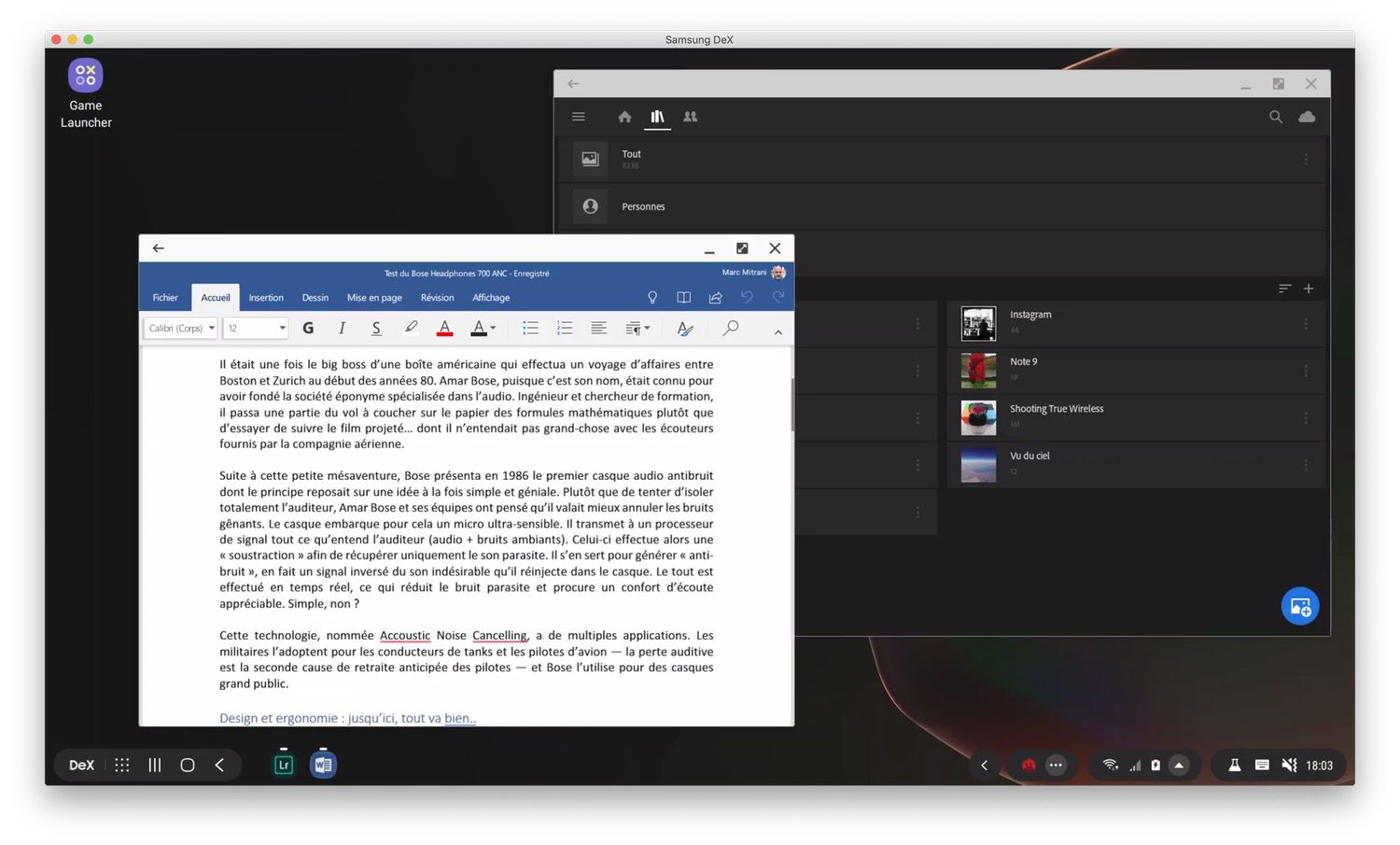 Over the years, Samsung is also improving DeX , the PC-like interface on its Premium products. With a simple USB-C to HDMI cable, the Note 10+ is transformed into a real laptop. Its screen is then trackpad and we can add a Bluetooth keyboard to enter text (or use the smartphone, of course). Samsung had the good idea to add DeX Desktop to allow the use of DeX on a Mac or PC. This requires installing the DeX Desktop application on the computer and then connecting the smartphone to a USB port. It will then be possible to access all the contents of the Note 10+, transfer files by drag-and-drop from one to the other, and also use all Android applications from the computer. Our tests, if they are conclusive, show however that DeX Desktop still suffers from some bugs (at least on MacOS). They should be corrected quickly.
Using the Note 10+ and the S-Pen is a pleasure . We asked him many times for note-taking, drawing and photographic retouching. The OneUI overlay, perfectly adapted to the device , contains many additions facilitating the use of the stylus. Let us quote for the example Air Command which proposes shortcuts as soon as one leaves the S-Pen of his lodging or Note Express allowing the taking of notes on the screen without having to unlock the smartphone. No offense to Samsung's detractors, OneUI is by far the most successful overlay available for Android . We look forward to the update to Android 10 which should be accompanied by an even better version of OneUI.
Audio : So long, old Jack !
It was briefly mentioned during the analysis of the design, the good old audio port Jack 3.5 mm is no longer relevant on the Note 10+ . We can regret it, curse Samsung, cry or wear a black armband, but the result will be the same and you have to make a reason: the audio jack is a thing of the past. If you absolutely want to use a wired headset, you will have to do with the AKG USB-C headphones provided. We can also pass an optional USB-C adapter that will have to be purchased separately (there are no small profits, as Apple would say). Given the price level of Note 10+, it would have been normal for it to be supplied as standard.
The supplied USB-C in-ear, originally AKG (owned by Samsung), produce a very good sound. And to be honest, they are, in our opinion, part of what is best with a smartphone (even if they are not perfect). However, it will be necessary to take the time to carefully choose the eartips most suited to his ear canals among the three provided.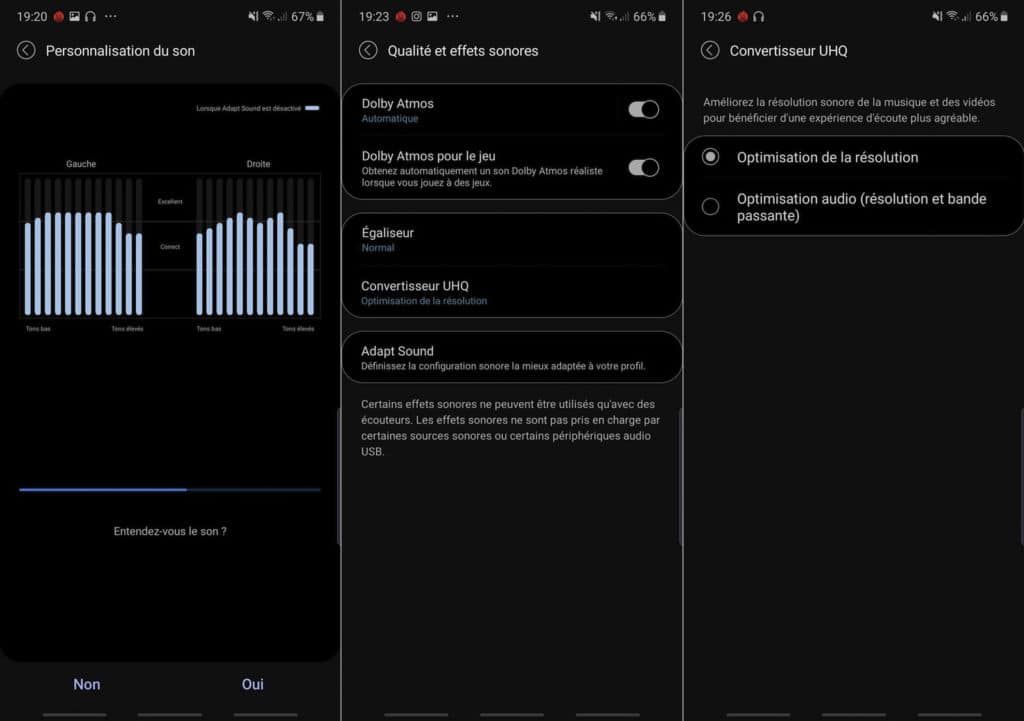 Note 10+ is Dolby Atmos compatible and has an interesting sound optimization mechanism with Adapt Sound . By default, three profiles are offered depending on the age of the user. For better reproduction, we can do a short test to create a custom profile. This is certainly not a novelty – the function is already present on the S10 – but an appreciable advantage. We will also take advantage of the function "  Separate application sound  " which allows the sending of audio from an application to an external source, the sound of other apps remaining on the smartphone (eg Spotify on a Bluetooth speaker, phone calls on the smartphone).
Note 10+ embeds a pair of stereo speakers that produces a very correct sound given the limited space they have. Of course, do not expect high fidelity. But the sound is still well defined even if fatally the bass is set back. The spatialization of the sound stage will not make you up at night but one in the other, the sound is acceptable when it comes to watching videos or listening to some music without headphones.
Charge and autonomy: an electric case
During the announcement, Samsung has brilliantly maintained a scholarly blur around crucial issues related to charging and autonomy . The manufacturer has indeed just announced an ultra-fast charge allowing a day of autonomy in thirty minutes, without talking about the overall autonomy. Same thing for wireless charging, advertised as being "very fast" using the new wireless charger stand. And that's all.
Ha no, we forgot: Samsung talked about an "optimized" power supply and a non-removable battery of 4300v mAh (excuse the little). In short, we would see what we would see .
And we saw …
In fact, the Note 10 + is compatible with the "ultra fast charge 2.0", which should allow to recharge very quickly provided you have a properly sized AC adapter. This is of course the "optimized" power supply mentioned previously delivering 45 Watts. Instead of providing it automatically with the Note 10+ (which might seem logical for a smartphone costing a SMIC), Samsung offers it as an option for € 49 .
The one accompanying the smartphone has a power of 25 Watts. Samsung become as stingy as Apple, which also provides with its smartphones an undersized charger? Both would be good model on Huawei who splits a charger 45 Watts with the P30 Pro , for a much lower overall price (but that, Donald Trump does not say in his tweets).
In use, the 25 watt charger is not such a bad option . According to our tests, it only takes 30 minutes to charge the battery at 60% , the 100% requiring an additional 35 minutes. Casually, it is still a great performance for Samsung, whose charging times are usually not extraordinary. We will update the test when we receive the 45-watt AC adapter, which is not commercially available at the time these lines are written .
The wireless charging stand 2.0, also optional, delivers up to 15 Watts. Accompanied by a power supply unit identical to that of Note 10+, it can retype any Qi compatible smartphone.
Finally, the reverse charge ( Wireless PowerShare , in samsungian lingo) is of the party, even if it is not entitled to any mention in the parameters. To activate it, it will imperatively pass through the general shortcuts. Amazing.
And autonomy, in all this? We hoped it would be titanic. In fact, it is very correct, but not so impressive as that . In standard use, the Note 10+ may take a little less than two days before starving. This will require adjusting the power consumption settings and switching to medium resolution FHD + (2280 x 1080 pixels) rather than staying in WQHD + (3040 x 1440 pixels). We also turned on the dark mode and replaced the standard wallpaper with a totally black background to limit the power consumption of the Dynamic AMOLED panel.
In intensive use (a lot of internet, videos, games and strong use of the S-Pen), the Note 10+ has a (very) big day before needing a refill. Despite the increase in the capacity of the battery and the use of a processor engraved in 7 nm, we end up with a battery life close to that of Note 9. This is not bad – far from it – but we hoped a little better.
Photo and video: AI does (small) miracles
Before talking about the dorsal camera, let's quickly evacuate the case of its front pendant. Composed of a 10 MP sensor, a 26 mm f / 2.2 lens and a phase detection autofocus, it produces beautiful images in good brightness. They tend to sound a bit as soon as the lighting goes down without it being dramatic. The video capture goes up to 4K 30 fps. In short, a frontal before quite honorable, even if the smoothing JPEG tends to be a bit too strong.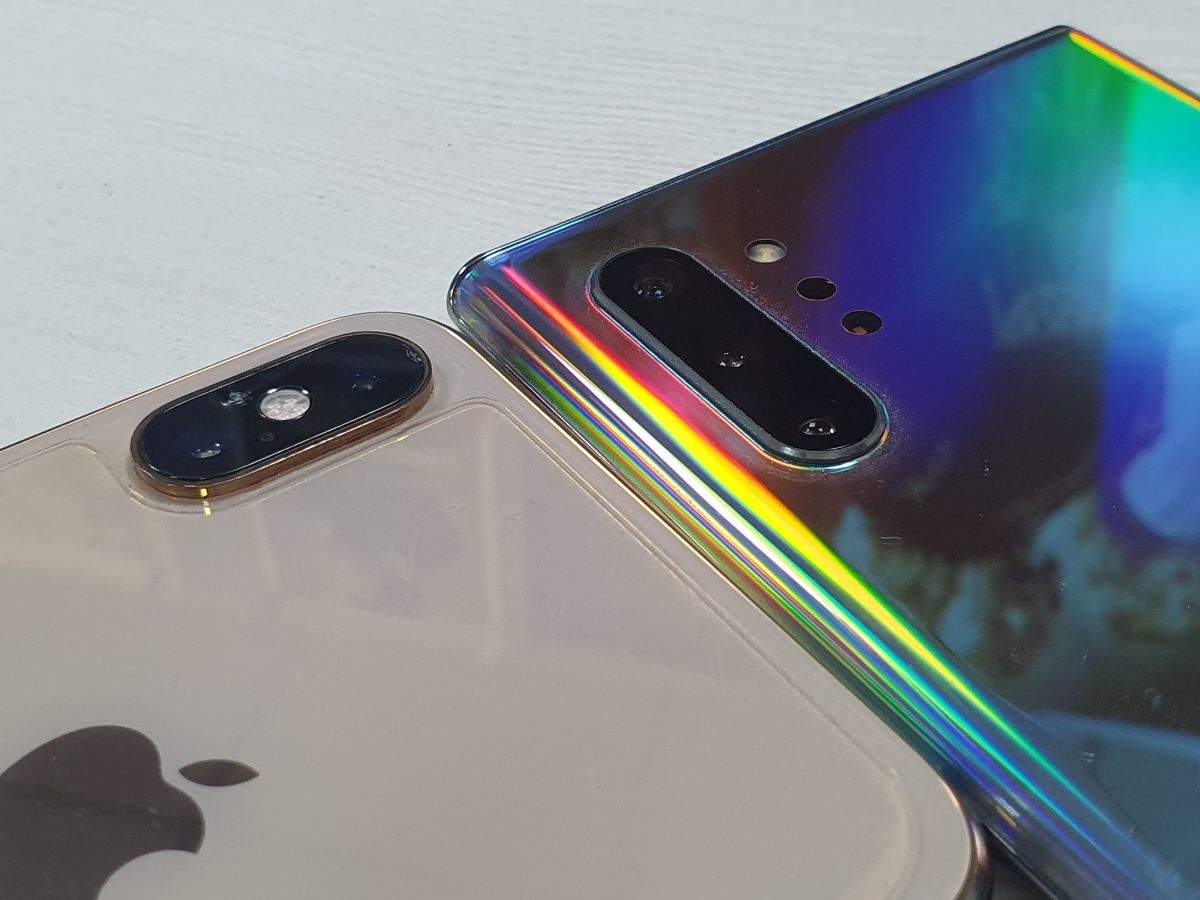 The back camera consists of four modules:
Ultra wide-angle : 16 MP sensor (photosite 1 μm); 12 mm f / 2.2 lens
Wide-angle : 12 MP sensor (1/2 size, 55 ", 1.4 μm photosites); lens 27 mm f / 1.5 and f / 2.4; optical stabilization, phase detection autofocus
Telephoto 2x : 12 MP sensor (size 1/3, 6 ", photosites 1 μm); lens 52 mm f / 2.1; optical stabilization
DepthVision : capteur VGA de type Time of Flight.
If the first three leave you an impression of déjà-vu, it's quite normal since they equip the Galaxy S10 +. The fourth, however, is a novelty and is intended to improve the detection of objects in the scene to be photographed or filmed. This is very reminiscent of what we have encountered in competition and especially on the P30 Pro Huawei.
Note 10+ gives pride of place to the video part . In addition to the now classic modes such as idle at 960 fps (still impressive), we can play with AR Doodle which allows to draw on the image before filming (add rabbit ears, glasses or beard to a subject, for example). Closer to the fun gadget than the truly useful feature, it will break the ice on some occasions … and get angry in others.
The creation of a software bokeh now extends to animated images with the "portrait mode video" . Adding bokeh in real time is an interesting idea. We can also opt for the enhancement of the subject by passing the background in monochrome or applying a VHS effect (the older of our readers will understand). If the result is not perfect (the AI ​​is sometimes trapped by details belonging to the background, the result is still impressive.We bet that Samsung will improve this effect as he had done in his time with the photographic portrait mode.
The capture of sound is not left behind and we can benefit from an " audio zoom " when zooming on a subject talking. Concretely, this function will increase the intensity of the sound coming from the subject on which one zooms. Here too, the idea is interesting and rather well implemented. However, the audio zoom still requires some tweaking to be bluffing.
OUR TEST REVIEW ON THE SAMSUNG GALAXY NOTE 10+
Note 10+ has significant assets to seduce its audience. The S-Pen, always so nice, is enriched with new possibilities. The edge-to-edge display produces outstanding image quality. The OneUI home interface remains one of the best available today. Samsung did not stop there and made the choice of a photo / video module back of very good bill. Mate of AI, it offers very interesting functions in photo and innovative in video. Whether fixed or animated, they are of very good quality.
Only autonomy, certainly correct but a bit too short for our taste, could tarnish this idyllic picture. This is not the case, however, and we
So why not put it directly 5 stars and quibble on a 4.5? Simply because of the price, which we consider too high for a smartphone, as brilliant as it is. This is probably why the Korean offers a "light" version of Note 10+ (simply baptized Note 10) and whose price does not cross the fateful threshold of 1000 euros. But that's another story…
WE LOVE
S-Pen (gesture control)
Beautiful screen
OneUI adapted to the S-Pen
Video functions
Photo quality
Design
DeX Desktop
WE LIKE LESS
No audio jack adapter provided
Optional high speed charger
Delusional price
Improved autonomy